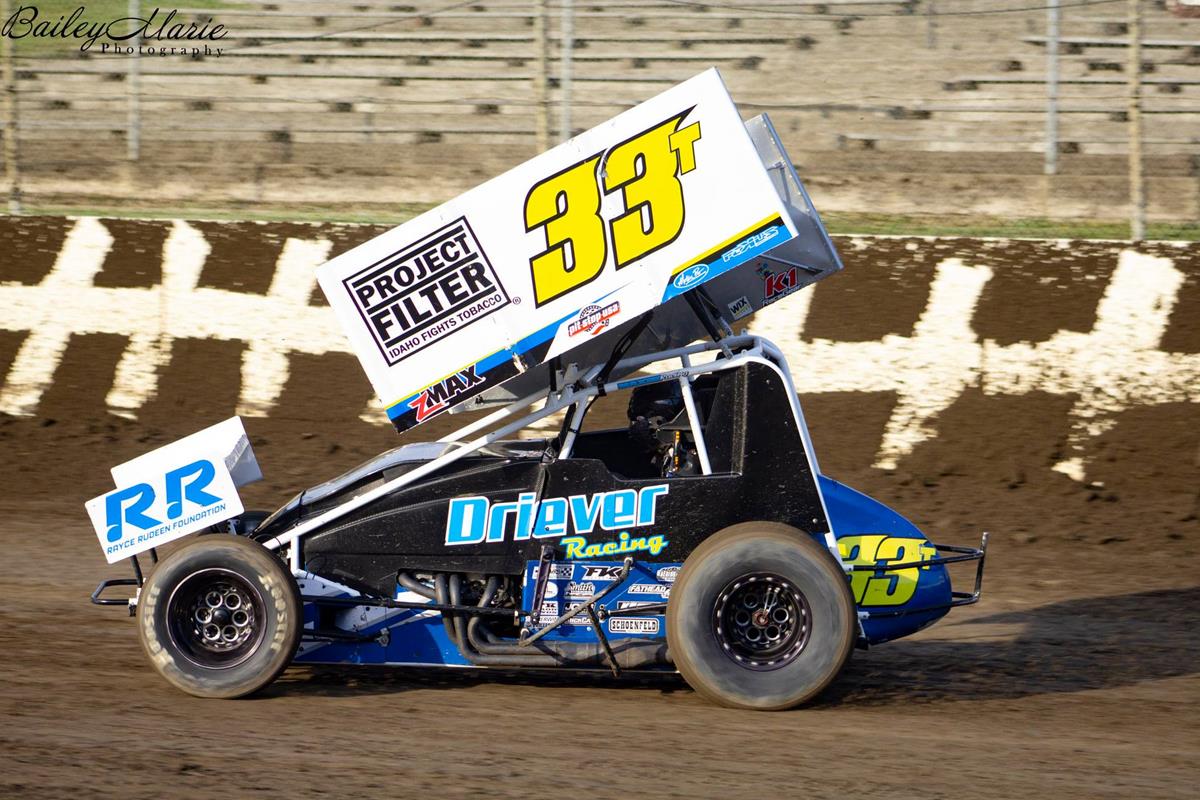 9/9/2021
Inside Line Promotions
---
Driever Pockets Three Top-Six Runs With ASCS Frontier Region
(Photo by Bailey Marie Photography)
Inside Line Promotions – PRICE, Utah (Sept. 9, 2021) – Tyler Driever captured a trio of top-six results last weekend during ASCS Frontier Region competition in Wyoming and Utah.
The solid weekend keeps Driever in second place in the championship standings entering the final two races of the season.
"It wasn't our best weekend, but we salvaged some decent results despite some really bad luck," he said.
It began last Friday at Sweetwater Speedway in Rock Springs, Wyo., where a heat race win earned Driever a spot into the feature redraw. Unfortunately, he pulled the highest number – eight – to line up on the outside of the fourth row in the A Main.
"It was a pretty average night and nothing really crazy happened," he said. "The luck of the draw gave us the No. 8 pill and the track took rubber so that was unfortunate, but we were able to drive up to third."
The third-place outing was Driever's ninth top five of the season.
Action shifted to Desert Thunder Raceway on Sunday for the first of back-to-back nights at the dirt oval.
"That was our first time racing at that track," he said. "It went really, really slick. We were running second from fourth in our heat race and the car slipped out of gear on the last lap so I didn't finish. Then I went from 14th to sixth in the main event.
"It was going pretty smooth and we were picking off cars pretty fast. That track was pretty one line and you really had to wait for someone to get underneath them. It took a lot of patience and going for it when you had a gap."
The performance earned the Hard Charger Award for passing the most cars.
The holiday weekend concluded on Monday at Desert Thunder Raceway, where Driever advanced from fifth to third place in a heat race. He lined up on the inside of the third row in the A Main.
"We started off pretty well," he said. "The track was very slick. At the start of the main event I went from fifth to second on the first corner of the first lap. Later on I caught a lapped car. If I didn't keep the car aero-ed out it'd get super tight. I caught that lapped car and couldn't get around him. Drivers running third and fourth caught me and freight trained me. I pretty much ran fourth after that as the track took rubber. Then on the last lap coming to the checkered flag we blew a right rear tire so that put us as the last car on the lead lap and we finished sixth."
The ASCS Frontier Region season concludes this Friday at Gallatin Speedway in Belgrade, Mont., and Saturday at Big Sky Speedway in Billings, Mont.
QUICK RESULTS –
Sept. 4 – Sweetwater Speedway in Rock Springs, Wyo. – Heat race: 1 (1); Feature: 3 (8).
Sept. 5 – Desert Thunder Raceway in Price, Utah – Heat race: 5 (4); Feature: 6 (14).
Sept. 6 – Desert Thunder Raceway in Price, Utah – Heat race: 3 (5); Feature: 6 (5).
SEASON STATS –
27 races, 2 wins, 9 top fives, 15 top 10s, 20 top 15s, 21 top 20s
UP NEXT –
Friday at Gallatin Speedway in Belgrade, Mont., and Saturday at Big Sky Speedway in Billings, Mont., with the ASCS Frontier Region
MEDIA LINKS –
Twitter: https://twitter.com/TD33tracing
Facebook: https://www.facebook.com/Tylerdrieverracing
Instagram: https://www.instagram.com/tylerdriever33t/
SPONSOR SPOTLIGHT – Fokus Graphics & Design
Fokus is a full-service wrap company specializing in custom sled wraps, vehicle wraps and powersports graphics. The product offering includes: vehicle wraps, sled wraps, UTV wraps, motocross graphics to large format printing options like fleet graphics, wall wraps, window graphics, logo design, stickers and more. For more information, visit http://www.FokusGraphics.com.
"Fokus Graphics & Design has been with our team for six years," Driever said. "Jason Mora, who owns the company, is a racer himself and has been involved in dirt bikes and snowmobiles throughout his life. Jason has always been awesome to us and I'm glad to be a part of the Fokus family."
Driever would also like to thank Project Filter Idaho Fights Tobacco, Conrad & Bischoff, Larson-Miller Medical Waste Disposal Service, xMAX Race Products, Let's Ride Powersports, King Racing Products, PitStopUSA, K1 RaceGear, Shark Racing Engines and HRP Racing for their continued partnership and offers support to the Rayce Rudeen Foundation.
INSIDE LINE PROMOTIONS –
Inside Line Promotions specializes in affordable public relations and media management for motor sports drivers, teams, sponsors, tracks, series, events, organizations and manufacturers. ILP Founder Shawn Miller leverages professional journalism with new media technologies and social networking to improve your exposure and the return on investment for your sponsors.
To meet the media relations needs of your program by joining Team ILP, contact Shawn at 541-510-3663 or Shawn@InsideLinePromotions.com. For more information on Inside Line Promotions, visit http://www.InsideLinePromotions.com.
---
Article Credit: Inside Line Promotions
Submitted By: Shawn Miller
Back to News