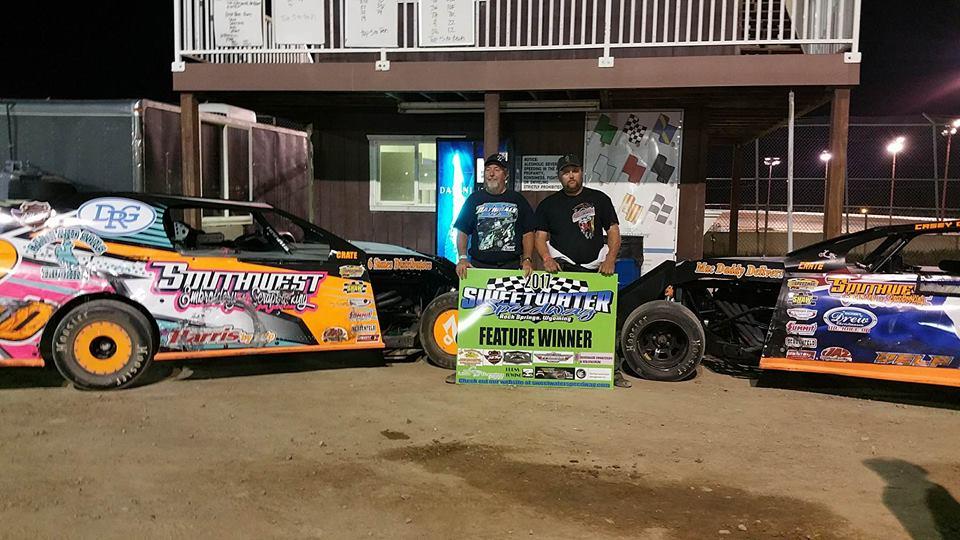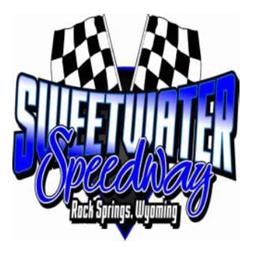 8/24/2017
Sweetwater Speedway
---
Amazing Night One of Sprint Car Show!
The ASCS Brodix Frontier Region made their debut at the track on Friday.
Jeremy McCune out of Montana led all 25 laps of the feature lapping putting on a great show for all the fans in attendance. Father and son Chuck Delp and Casey Delp both brought home wins for the night in the Sport Mods and Modifieds respectively. It was Gene Henrie from Utah who brought home the win in the Stock Cars.
Results
ASCS Sprint Car
A Feature
0J-Jeremy McCune, [2]; 2. 0-Ned Powers, [6]; 3. 86-Zac Taylor, [3]; 4. 27DD-David Hoiness, [7]; 5. 2L-Logan Forler, [5]; 6. 24M-Rich Martin, [10]; 7. 27B-Patrick Bourke, [4]; 8. 90-Lance Norick, [15]; 9. 11-Mindy McCord, [11]; 10. 77-Damon McCune, [20]; 11. 74-Chauncey Filler, [1]; 12. 10-Anthony Farnsworth, [8]; 13. 7-Mike Sires, [17]; 14. 14-Ben Holmberg, [9]; 15. 8-Randy Dolberg, [12]; 16. 2-Shad Peterson, [18]; 17. 33-Robert DeHaan, [13]; 18. 66-Lany Reber, [14]; 19. 19-Jalen Powers, [16]; 20. (DNF) 88-Travis Reber, [19]; 21. (DNF) 56-Butch Capshaw, [21]
IMCA Sport Mod
A Feature
2D-Chuck Delp, [6]; 2. 83J-Jason Wright, [7]; 3. 87-Shane Simper, [9]; 4. 10-Anthony "A.J." Fierro, [8]; 5. 28-David Pitt, [2]; 6. 20-Larry Kaml, [3]; 7. 33J-Josh Pate, [10]; 8. 5-Verlon Lee, [5]; 9. 79-Travis Poll, [12]; 10. 14S-Traeger Sperry, [1]; 11. 19-Myron Kaml, [13]; 12. (DNF) 35-Slade Pitt, [4]; 13. (DNF) 21-Jordan Pitt, [11]
IMCA Modified
A Feature
2W-Casey Delp, [9]; 2. 83-Kevin Wright, [2]; 3. 33BY-Braxton Yeager, [6]; 4. 7R-Ryan Gaylord, [12]; 5. 1W-Justin Wright, [4]; 6. O1H-Michael Hale, [8]; 7. 77T-Tripp Gaylord, [11]; 8. 46-Bert Beech, [7]; 9. 22D-Chris Delp, [5]; 10. 4-Justin Elmer, [13]; 11. 7W-Bryan Wordelman, [3]; 12. 22-Heath Denny, [14]; 13. 10F-Rick Fierro, [10]; 14. 13-Ronnie Roy, [1]; 15. (DNF) 01C-Lakota Cleveland, [15]; 16. (DNF) 12-Reed Payne, [16]
IMCA Stock Car
A Feature 1 20 laps
2H-Gene Henrie, [3]; 2. 3L-Dillion Lawrence, [5]; 3. 88-Beau Hutchison, [2]; 4. 62-Kasey Bright, [1]; 5. 7-Brent Hartmann, [6]; 6. 21-Ed Henderson, [4]; 7. 5-Verlon Lee, [9]; 8. 02-Aspen Russell, [7]; 9. 57-Ron Swanson, [8]
---
Article Credit: Kara Beech
Back to News